January 10, 2016 by: Keith Hankins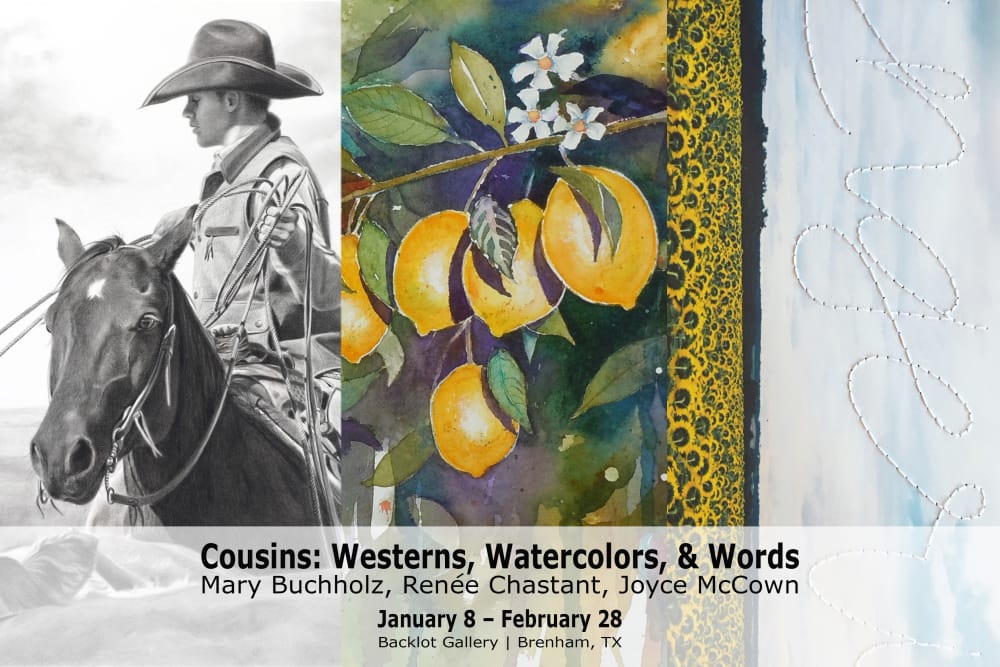 Back Lot Gallery Presents:
Now showing at the Back Lot Gallery, the newest art gallery in Brenham, located at 308 South Park Street on the "back lot" of the Ant Street Inn is Cousins: Westerns, Watercolors and Words! Just as the name suggests, three cousins have brought their various styles and creations together for this two-month long exhibit.
Opening January 8 and closing February 28, Cousins features the works of Mary Ross Buchholz, Renee Chastant, and Joyce McCown.
For over 18 years, art has been Mary's devotion. She offers a glimpse of her daily ranch life using the most primitive of mediums, charcoal and graphite. It is the striking beauty of her pieces with softly rendered detail that captivates and intrigues her audience. Mary is represented by InSight Gallery in Fredericksburg, Texas and Legacy Galleries in Scottsdale, Arizona, Jackson, Wyoming and Bozeman, Montana. She has been featured in publications including the Western Horseman, Art of the West, Western Art Collector, Southwest Art, America's Horse, Quarter Horse News, True West, Western Art & Architecture, Cowgirls Magazine, and Cowboys & Indians. Buchholz was selected as a winner in the 2014 Art Renewal Center (ARC) Salon competition and as a finalist in the 2015 ARC Salon Competition.
Originally from New Orleans, Renee has also spent time in Colorado, Arizona and Panama. Travels in years past have taken her through much of America, as well as Africa, France, Canada and Mexico. The colors, textures, flora and fauna of these locations vary seasonally and continue to appeal to Renee. Indeed, she finds inspiration in almost anything "organic." Renee's painting style varies from fairly realistic depictions to bold, colorful renditions and abstracts. As a member of the Colorado Watercolor Society and a juried member of the Littleton Fine Arts Guild in Colorado, Renee's paintings hang in Denver area galleries including The Depot Art Gallery in Littleton. As a Signature member of the Southern Arizona Watercolor Guild, Renee's work is also displayed in Tucson and Tubac, Arizona.
Joyce, born in Arlington, Texas, graduated summa cum laude from Washington University in Saint Louis's Sam Fox School of Design and Visual Arts in May of 2014. Joyce's work includes combinations of writing, drawing, collage, photography, and printmaking. Each media offers unique processes for exploring external and internal worlds, she says. "Drawing is a link from the inner to the outside world; collage brings multiple worlds together; printmaking layers worlds; and photography captures and builds worlds." Gallery showings include the Contemporary Art Museum Saint Louis, the Des Lee Gallery, also in Saint Louis, and the inaugural artist presented by the Back Lot Gallery in Brenham, Texas. Joyce most recently won the Emerging Artist Award at the 2015 St. Louis Art Fair, and is proudly represented by Back Lot Gallery, Brenham, Texas.
All works are available for purchase. Many are available framed or unframed.
Back Lot Gallery will be open every Friday and Saturday from noon until 7:00 PM and Sundays 11:00 AM until 4:00 PM. Please come see the New Art, New Artists!