Welcome to the Ant Street Inn!
Historic Downtown Brenham, Texas
While the Ant Street Inn boasts exquisite antique furnishings, Oriental rugs and stained glass in every room, our guests also enjoy 21st century amenities such as free wireless high speed internet, flat-screen cable televisions, private bathrooms, full made-to-order breakfasts and free parking! Guests also enjoy the rocking chairs on the back veranda overlooking the gardens and fountain. Couples celebrating their honeymoon, anniversary or birthday will want to request the Celebration Time Package to enhance the occasion. The Ant Street Inn and Brenham provide many opportunities to relax! Reserve a room with a large soaking tub for two, or add a Unity Theatre Package to make your stay extra special! Breakfast is served from the expansive menu of the Brenham Grill, the award-winning restaurant right here in our hotel. After a busy day of antique shopping, geocaching, or history seeking, nothing hits the spot like relaxing at the Ant Street Inn!
Washington County and the surrounding areas have much to offer our guests. The Ant Street Inn itself is situated right in the middle of historic downtown Brenham, a charming Main Street city featuring, great shopping, fine dining, nightlife and the arts. Wine lovers are increasingly discovering the four Washington County wineries: Pleasant Hill Winery, Windy Winery, Saddlehorn Winery and the newest Wahington County winery, the Texas Star Winery are all enjoying an increased following. Springtime brings the bluebonnet trails to life. Year-round day trips with short drives to Round Top for the Round Top Antique Shows and Festival Hill Music Institute; the George Bush Library in College Station; and, the birthplace of Texas can be explored at Washington-on-the-Brazos State Park and the Star of the Republic Museum. Horticulturalists will enjoy the Antique Rose Emporium. And that's just the beginning! So much to offer... so much to enjoy!
Meet the Innkeepers
Suzy and I purchased the Ant Street Inn in December, 2011 and are excited to be continuing the work of the inn's founders, Pam and Tommy Traylor: that of bringing Texas hospitality and peacefully elegant sanctuary to our guests. Graduates of Texas Christian University (we are both proud members of the Horned Frog Class of '88), we have two grown children: Joyce, a professional artist living and working with her husband Dan in St. Louis, Missouri, and Tommy, studying geography at Texas Christian University.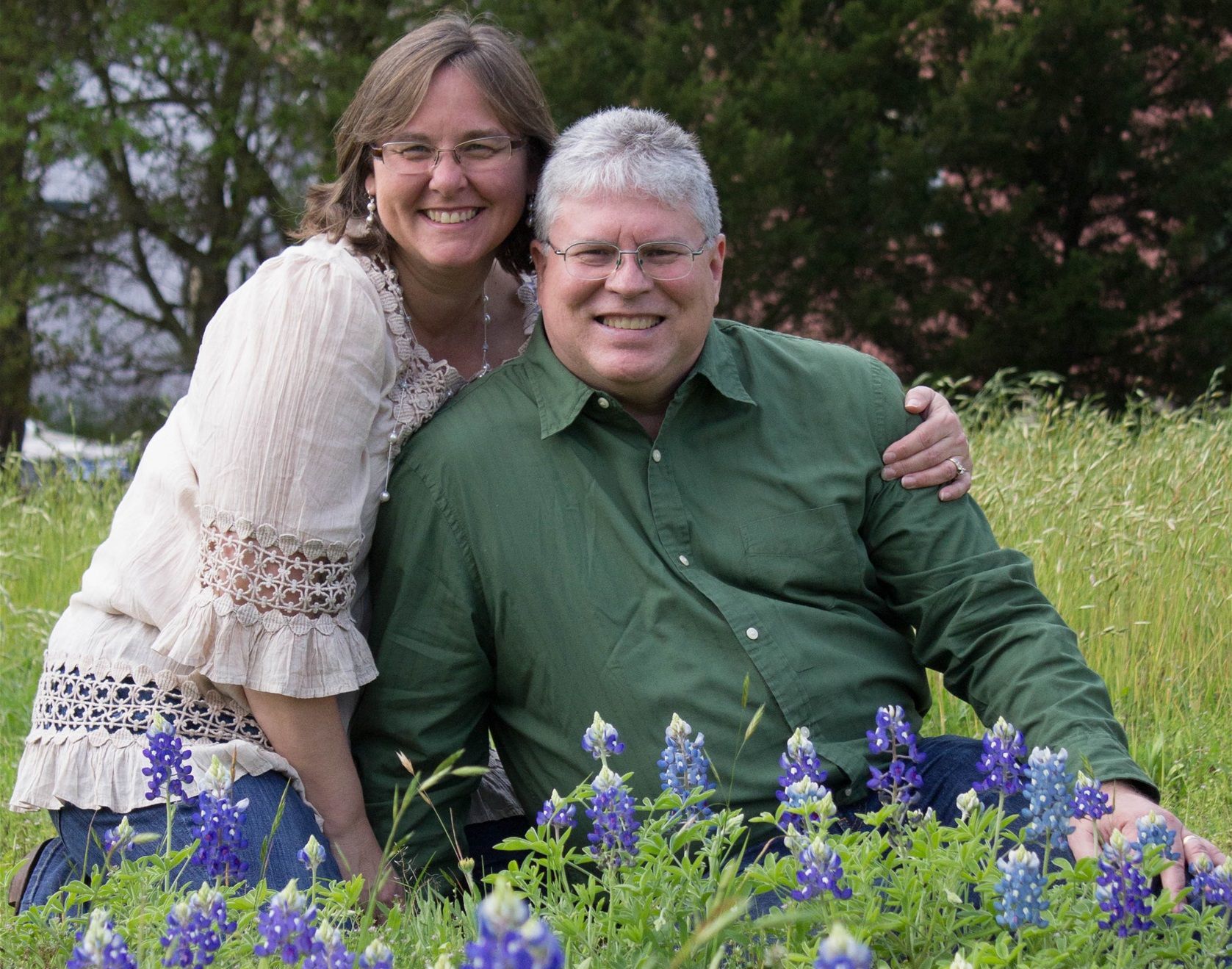 After a 20-year career in the management and administration of healthcare, I (Keith) was ready for a career change. After the much more difficult and challenging 20-year career of managing the household, rearing the kids, and intensive volunteer work (I often referred to Suzy as "The Quintessential Stay-at-Home-Mom-Who's-Never-at-Home"), Suzy was ready to put her gifts of hospitality on display beyond the threshold of our own home.

We knew very early in our marriage that we wanted to own and operate a business together, but we didn't know what. After much discussion and debate, we decided on a bed and breakfast. When we identified that the timing for the merging of our careers was at hand, we were living in St. Louis, Missouri. We had two criteria for the property we would purchase: 1) It had to be in Texas; and 2) It had to be able to support both of us - we didn't want to walk into a situation where one of us would have to get an outside job to support the endeavor. Those criteria were met in the Ant Street Inn!
Our Staff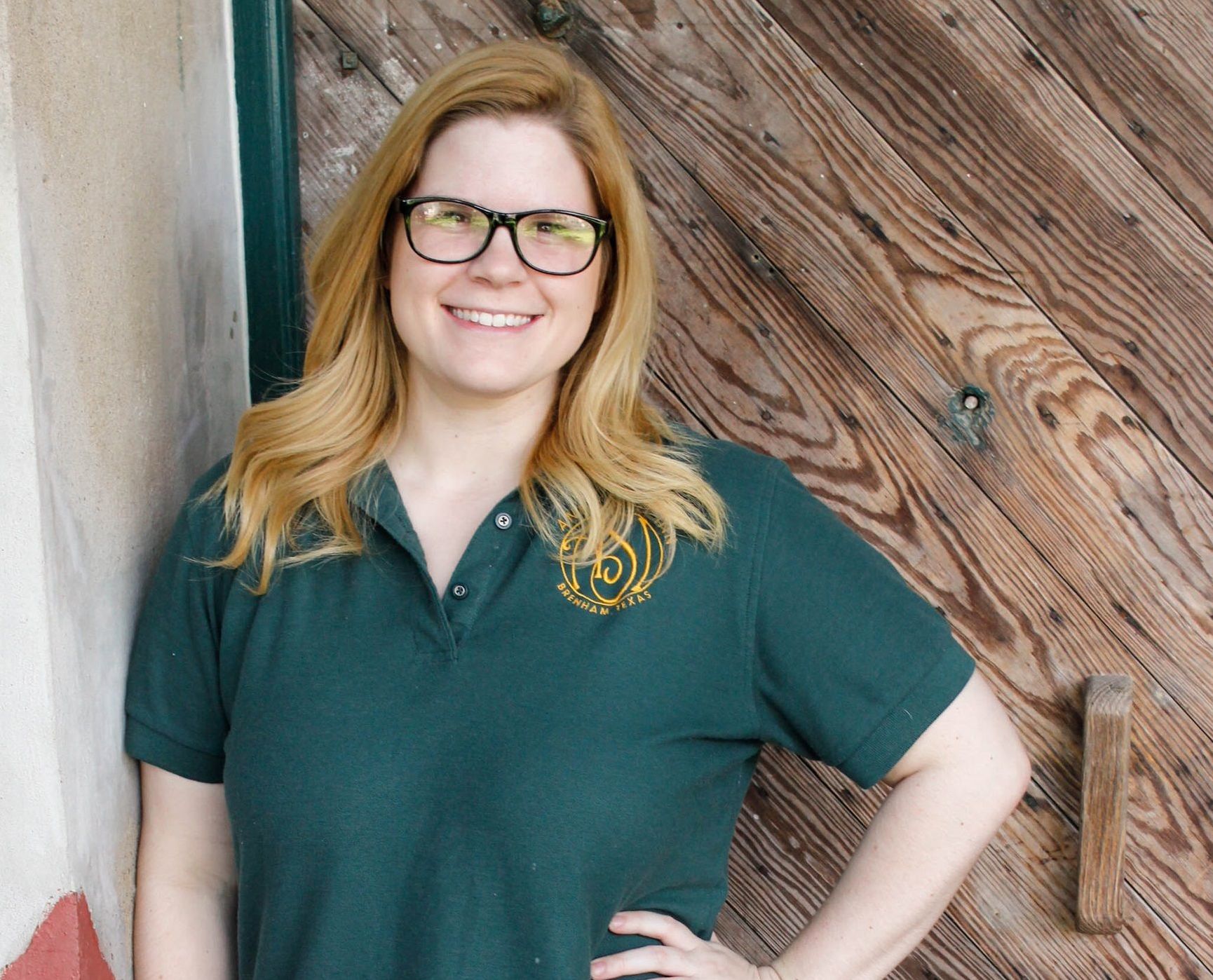 We'd like to introduce Caroline Coles, ASI's newest member of the management team! Graduating from the University of Houston's Hilton School of Hotel and Restaurant Management in August of 2014, Caroline joins ASI as our Front Desk Manager. Please help us welcome Caroline on your next visit!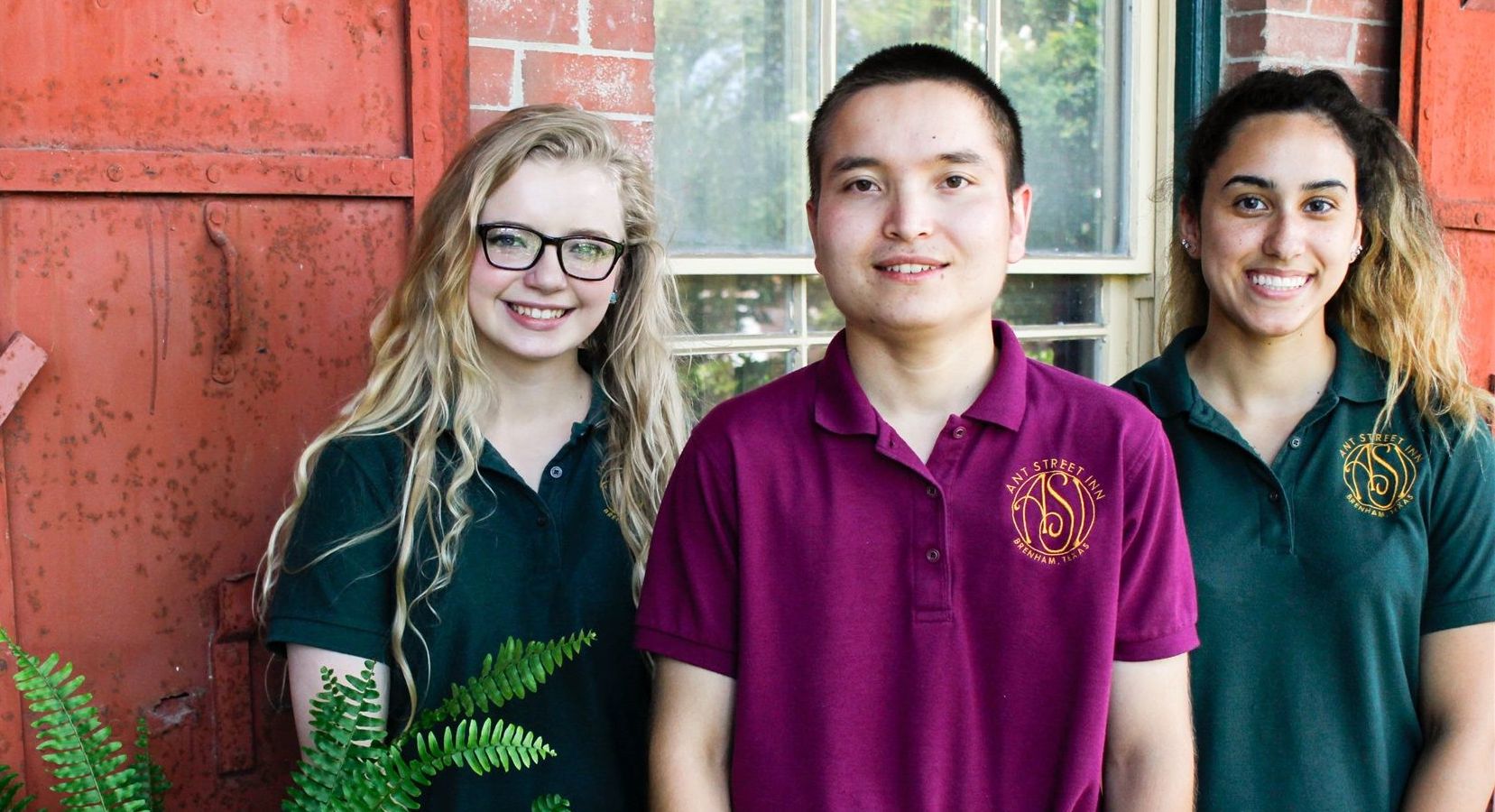 Our knowledgeable and efficient staff tirelessly work to keep you comfortable, our rooms and common areas clean and safe. It could not be the Ant Street Inn without them! Whether at the Front Desk or Housekeeping and Maintenance, our staff is here to assist you, and to make your stay at Ant Street Inn one you want to experience again and again!
Ant Street Inn Guest Comforts
Luxurious Linens; Sensuous Soaps; Treats for the Palate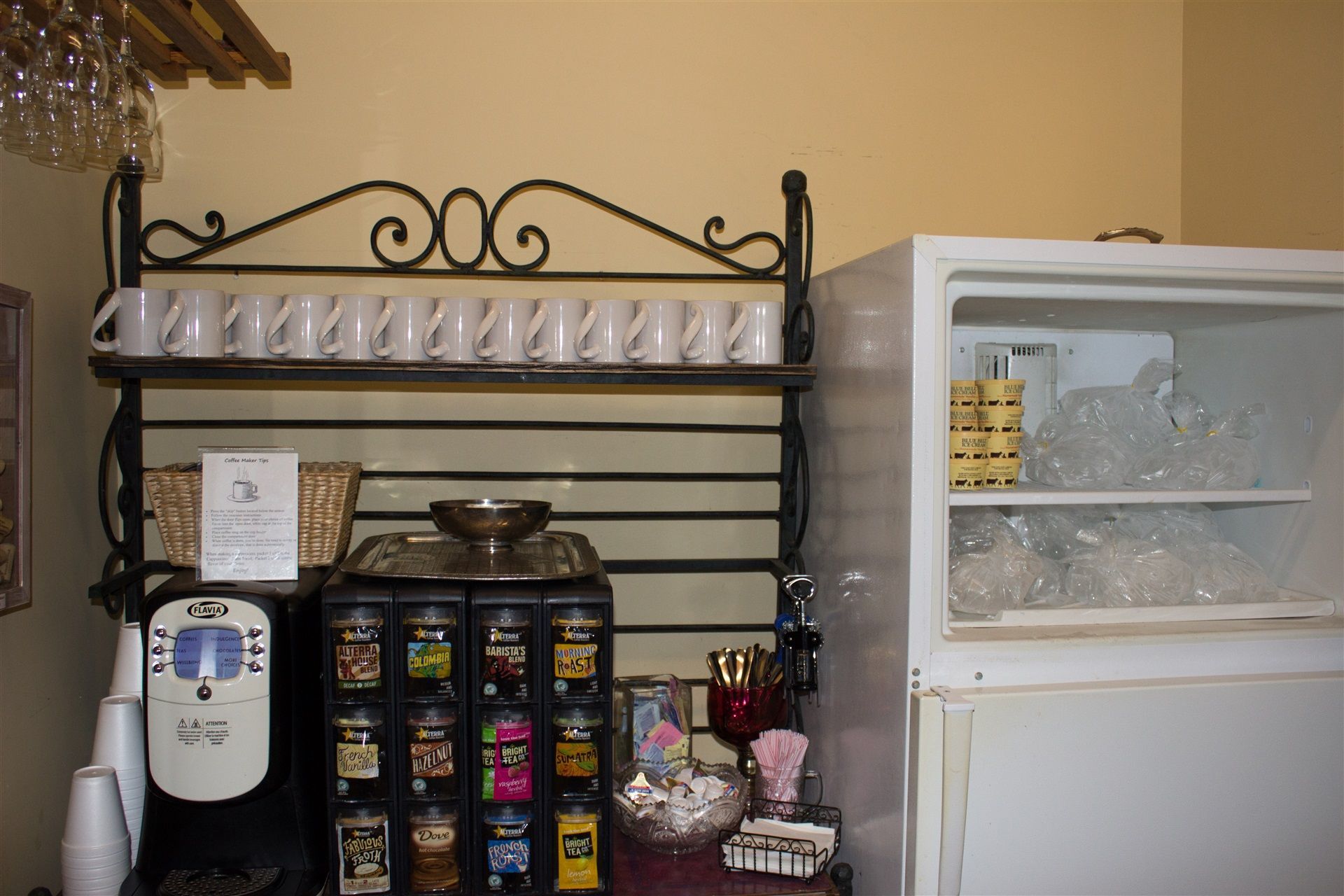 All guestrooms have private baths en suite with custom soaps, luxurious bathrobes, fluffy towels, hair dryers and irons. Five of our guest rooms have a shower only, five have a combined tub and shower, and five have a separate tub and shower, with the tub in these rooms being a garden tub large enough for two. Our comfortable, plush antique beds feature premium linens and white mattelasse coverlets. Complimentary high speed wireless internet access is available throughout the inn. The business traveler will find plenty of private workspace on authentic antique desks in every room. Flat screen television, individual temperature control, fresh coffee, ice, soft drinks, Blue Bell ice cream and a full breakfast prepared to your order in the Brenham Grill, the award-winning restaurant right here in our hotel round out our list of standard amenities.
Property Amenities
The Ant Street Inn has a large, spacious veranda overlooking the landscaped gardens and grounds behind the main building. Enjoy a drink out back and take in the view of the flower garden and the ambiance of downtown Brenham while the country breeze blows through.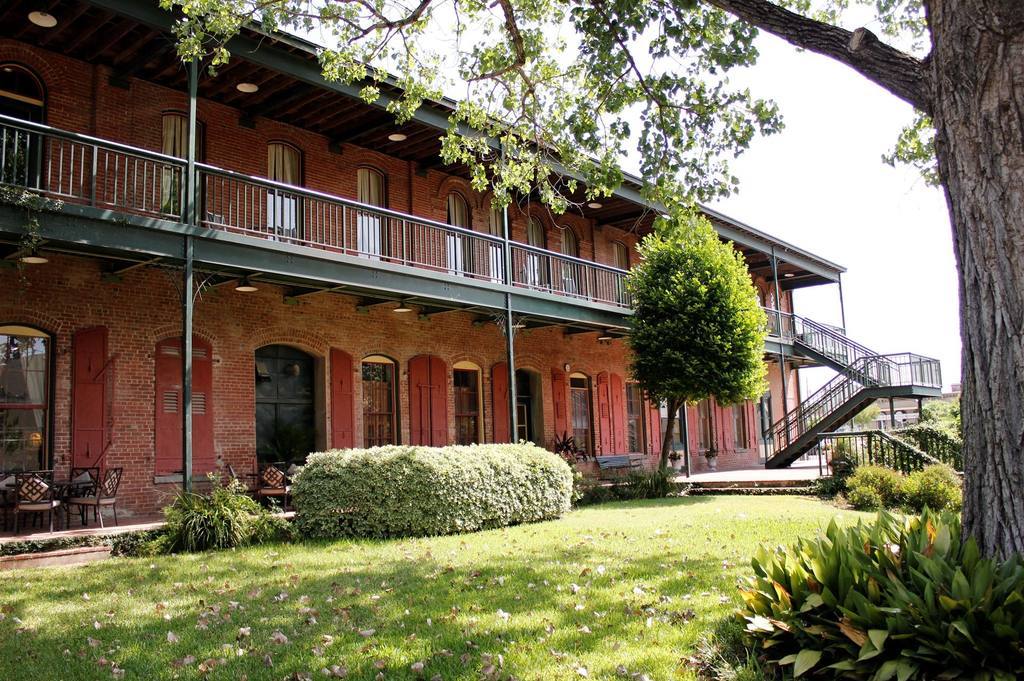 If it gets too hot or cold outside, come in and enjoy the luxury of the Grand Hall, with exquisite antique furnishings and works of art that take you back to the turn of the century, the 19th/20th century! Enjoy catching up with your favorite magazines, pick up a book from the secretary in the Hall, or enjoy a puzzle or game from the Hospitality Room at the east end of the Hall.
Complimentary parking is always available at the Ant Street Inn, in the private lot behind the main building, in the spaces out front, and in the public parking lot just to the east of the Ant Street Inn, across Park Street. You don't have to drive a Porsche, or even an Austin Healey, but it helps!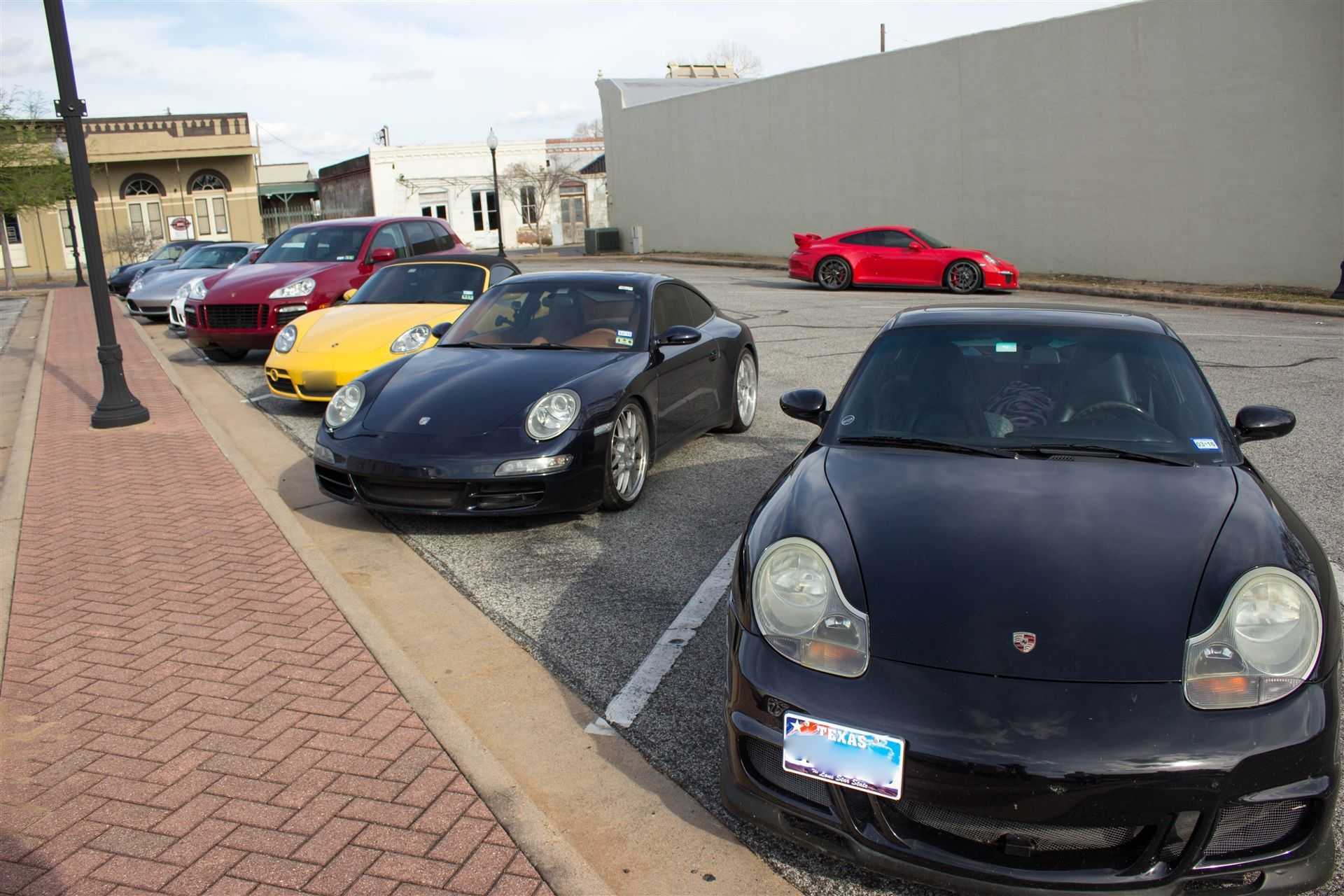 The Ant Street Inn has two broadband, high speed wi-fi networks available at no charge to our guests, making access to your emails for work or the internet for leisure simple and easy.
Refreshments are available to our guests any time of day or night. Soft drinks, coffee or tea, water, in our Refreshment Room, stocked once per day. Of course, complimentary world famous Blue Bell ice cream will be available, just as soon as it's available!!

Weekend evenings, when no other activities are happening at the inn or in downtown (such as a wedding at the inn, or a festival downtown), we put together a little "Guest Social" tray of light appetizers to give our guests the opportunity to meet and greet one another before the restaurants in the downtown area are open and ready to serve.
Please do not hesitate to make any special requests or inquire about any special arrangements you may need. We'd be glad to assist you!